Jazz Music Workshops with Mike Frost
Innovative learning with a real world professional player
Unique, innovative and personal Workshops for the professional or beginning improvisational musician, saxophone players and even non-musicians who are looking to learn more about jazz and the business of music.

While the primary focus is on jazz, we believe that the skills provided in our workshops are universal and invaluable for any style of music. After taking an MFWorkshop, you will find improved focus as well as new tools to continue your artistry in a more enjoyable and productive way. Our Northwest side of Chicago (Portage Park) location offers a great learning environment and opportunities to both observe and participate in interactive options.

Also, for the first time in over 10 years, Michael is now offering private lessons in his home studio. For intermediate and advanced sax players as well as improvisational instrumentalists of all types.

About Mike Frost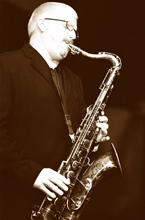 Mike Frost studied saxophone on scholarship at DePaul University under jazz virtuoso Joe Daly. He has been a featured performer with blues legend Otis Rush, and has been a member/soloist with many prominent jazz bands in the city.
Mike has also played on various recordings with musicians from the bands of Miles Davis and David Sanborn. Mike is a voting member of The National Academy of Recording Arts and Sciences and a member of the IAJE.
Mike is also the Entertainment Director for Premier Yachts Inc., the parent company of the Odyssey I, Odyssey II and Odyssey III and several other vessels and attractions.
The Mike Frost Project has been one of the most exciting jazz groups to be based in Chicago during the past few years. With three CD releases, MFP plays straight-ahead jazz, using great songs from the past plus contributing new originals in a complementary style. The group performs a modern day version of an earlier style but in their own way.